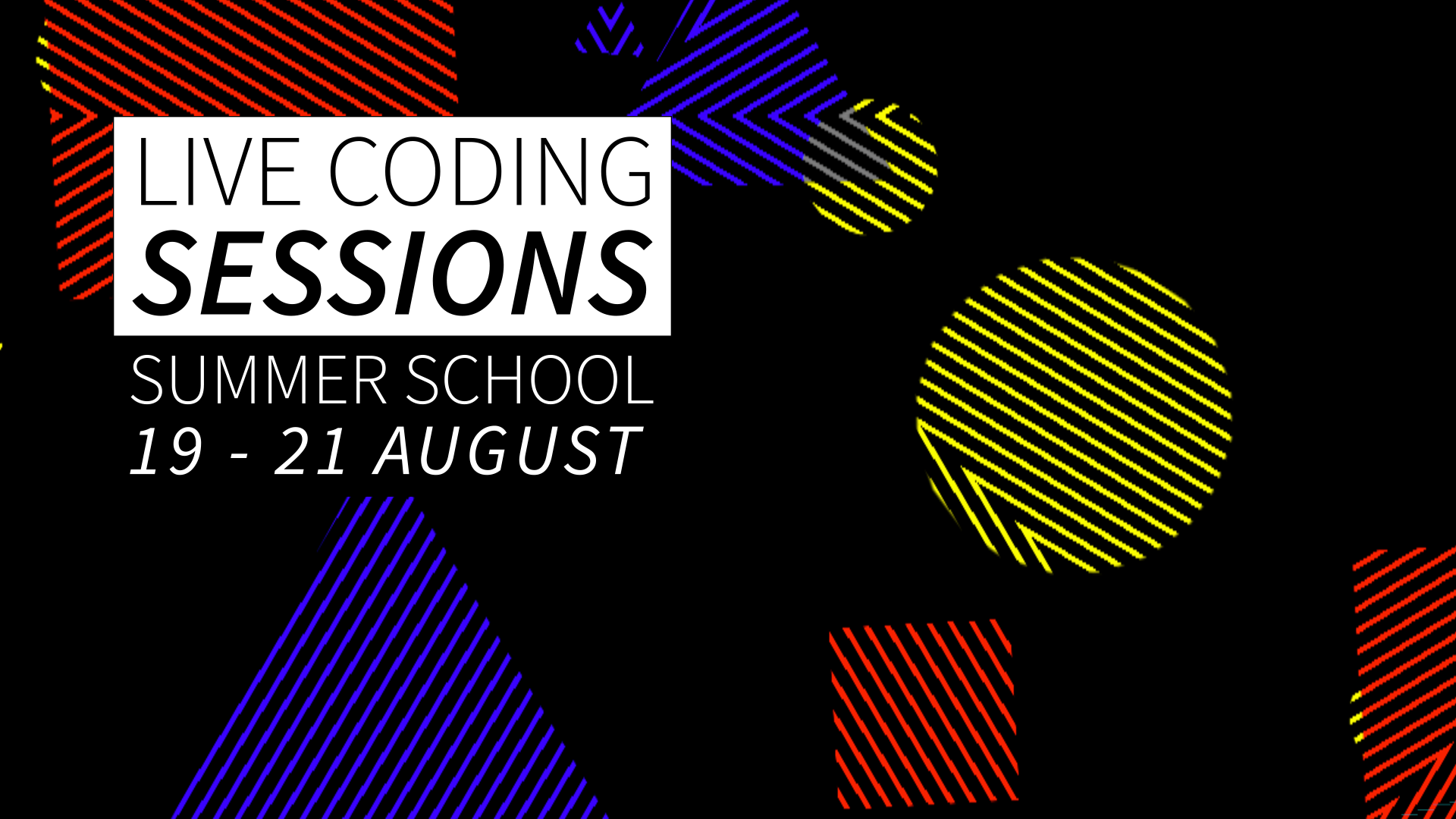 This 3-day course offers an introduction to Live Coding and, under the wings of Live Coding experts, you'll learn how to write (live) coding language. You choose if you want to focus these days on AUDIO or VISUALS. On the last day you'll put what you've learned into practice with the other participants, in a LIVE coding test-performance at Doka.
Besides learning the useful skills to become a live coder, you will become part of our Live Coding network with the opportunity to create a Live Coding performance at one of our events at Doka!
What is Live Coding?
At Live Coding events, a.k.a AlgoRaves, music and matching visuals are coded live. The DJ and VJ are coders who adjust rhythm, pitch and visuals realtime by changing the lines of their code and to write algorithmic compositions. By the use of large screen projection all adjustments are visible for the audience making the audience a part of the experience.
What you will learn
Introduction in Live Coding (everyone)
Live Coding skills (here you choose audio or visual).
Experiment and collaborate with other live coders (everyone)
Create your own LIVE coding set! (everyone)
Details
Workshop dates: 19 -21 Aug (daily 10:00 - 18:00)
Workshop venue: Volkshotel, Wibautstraat 150,1091 GR Amsterdam
Materials that you need to have/bring: Laptop, headphones. You'll receive more info before the workshop on how you can prepare your setup.
Language: English
We will make sure to create work places with 1,5 m distance and will organize the summer school with the RIVM guidelines in mind :-)
Tickets
Price 160 EUR for 3 days including lunch, coffee and tea
(193,60 EUR including VAT/BTW)
You already choose if you want to focus on AUDIO or VISUALS when buying your ticket, so we can divide the teams equally (and stay on a safe distance)
An evening program is included with networking events/drinks/parties (optional)
Workshop hosts
The workshop is organised by Saskia Freeke, Sabrina Verhage and Klasien van de Zandschulp, in collaboration with Volkshotel.
We will be joined by Timo Hoogland and Sebastian Pappalardo to teach you all the skills you need to become a Live Coder. You will choose the direction of workshop: AUDIO or VISUAL.
Audio Workshop: TIMO HOOGLAND
Timo Hoogland (NL) will teach audio live coding focusing on his own language Mercury. Timo Hoogland is a livecoder, creative coder, music technologist and educator from The Netherlands. He livecodes experimental electronic dance music. He graduated from the Masters of Music Design at the HKU University of Arts Utrecht in 2019, where he developed Mercury and used it to research and develop algorithmic composition techniques in livecoded music.
More info about Mercury: https://github.com/tmhglnd/mercury#about
T.mo - Live at NerdLab VR
Visual workshop: EERIE_EAR
Sebastian a.k.a. eerieear will teach the visual live coding language Hydra. eerie_ear (AR/NL) is a digital art project by artist and sound designer Sebastian Pappalardo. He explores new ways of combining digital media to create compelling textures and patterns. The visual part of the project combines different javaScript environments, p5Js and Hydra and in sound production, Supercollider and a Haskell programming environment called Tidal-cycles.
More info about Hydra: https://hydra.ojack.xyz
Volkshotel
Volkshotel offers a special discount to hotel rooms for participants. Let us know if you want to stay in a hotel room so we can make a booking for you! www.volkshotel.nl
Costs of a hotel room at Volkshotel: Private cabin, shared bathroom: 40 euro XS room, private bathroom: 60 euro Large room: 130 euro (Up to 4 people)
COVID-19
We understand you'll have question regarding COVID-19. Live Coding Sessions as well as Volkshotel are dedicated to adhere to the Dutch rules and regulations. Please read the Volkshotel COVID-19 guidelines: https://www.volkshotel.nl/en/covid-19-guidelines/
In case you experience symptoms or are expected to self-quarantine please let us know as soon as possible. It is possible to request a refund if needed.
In case we have to cancel or reschedule the event, we will contact you by email.
Above all we are dedicated to finding creative & flexible solutions to make the workshop as fun, accessible and safe as possible despite COVID-19.
Contact us
If you have any questions send us email at contact@klasien.nl
This summer school is kindly supported by Amsterdam Fund for the Arts (AFK), Volkshotel.